Mass murder Antonio Jimenez wants to start one more of his parasite "clinics" for exploiting cancer patients, this time on the Samoan Islands:
http://www.samoaobserver.ws/en/25_05_2016/local/6591/Hope-4-Cancer-offered-MedCen.htm
[*quote*]
Hope 4 Cancer offered MedCen
By Deidre Fanene , 25 May 2016
PICTURE:
http://www.samoaobserver.ws/images/cache/600x400/crop/images%7Ccms-image-000007846.jpg
Minisita Lagolago o le Matagaluega o le Soifua Maloloina, o Salausa Dr. John Ah Ching ma Le na Faavaeina ma o le Faatonu Faa-foma'I o le Faalapotopotoga o le
Hope 4 Cancer i Mexico, o Dr Antonio Jimenez
ma le Palemia o Tuilaepa Sailele Malielegaoi.
After lying vacant with little interest from buyers, the former MedCen Hospital at Vailima may have at last found new tenants.
Prime Minister Tuilaepa Sailele Malielegaoi is looking at setting up the Hope 4 Cancer Clinic there for the time being while the government looks for a permanent place near the beach for the clinic.
This was confirmed on Monday after the group presented to the Prime Minister, Cabinet Ministers and members of the Health Sector, what Hope 4 Cancer is all about.
"These doctors from the United States of America are here with the hope to set up a clinic here in Samoa that will treat all illnesses especially Cancer by using different kinds of treatment rather than letting the patient go through chemo and radiation," he said.
"This group is highly recommending healthy eating and natural healing, like us here in Samoa.
"There are a lot of cancer patients who don't want to go through the normal treatment of cancer like chemo and radiation but they would gladly go through what these doctors are bringing on the table.
"The reason why they want to setup a clinic here in Samoa is because most of their patients are from New Zealand and Australia
and so it would be easier for these patients to travel to Samoa rather than spending a lot of money going to America which is expensive.
"They (cancer patients) also don't want to go through the hard treatment but rather take these treatments that are much easier and less painful."
Tuilaepa went on to say that these doctors are well trained and have many years of experience and also many of their patients have recovered from cancer because of these natural treatments.
"From my point of view this will benefit Samoa in many ways; not only that there will be a lot of patients who will travel here but in the side of our tourist industry," he said.
"The government won't have to spend millions and millions in sending patients overseas but they will be treated here.
"We went and had a look at the MedCen Hospital at Vailima to start up their clinic while we look for a space that is close to the ocean because these people also want to live a happy life while they are here for treatment.
"The hope for this is to have people travel to Samoa and also to have these doctors help our people so that we won't spend more money on sending patients overseas and end up having sad results."
The presentation was from the founder and Medical Director of the
Hope 4 Cancer Institute in Mexico
, Dr Antonio Jimenez.
Dr. Jimenez said the Institute treats cancer patients of all stages and those with other lifestyle diseases.
"We also treat chronic diseases for example diabetes," he said, "and high risk patients preventatively."
"Our mission in Samoa is to establish a Hope 4 Cancer Centre to attract medical tourism," he said.
"We will find and enable solutions for the Chronic Health Challenges facing the Samoan population and we will treat Samoan cancer patients locally to avoid travel to other countries for ineffective treatments."
Dr. Jimenez said they chose Samoa because of the strategic, geographical location close to Australia, Asia and Africa.
"Not only that but Samoa's low cost of living will make travel to Samoa more attractive than to other countries, because the cost of saving is the primary reason for the medical tourism choices of 70% patients.
"Also because of the government support and the favourable regulation environment, it will allow us to provide the best possible treatments."
He said that the benefits of medical tourism for Samoa will generate employment at the clinic where they will need local Samoans at varying levels of expertise.
"Our goal is to use the local Samoan workforce to the greatest extent possible," he said.
"We will also generate indirect employment in the hospitality industry and the tourism industry in general.
"Patients and companions will use hotels and restaurants, they will visit tourist spots and recommend Samoa to others on their return and many patients may return for follow up visits as well."
Dr. Jimenez also presented the Hope 4 Cancer Business Model for Samoa Medical Tourism.
"Hope 4 Cancer's Samoa clinic will first be established at an existing treatment facility with access to basic diagnostics and imaging facilities," he said.
"Based on the market growth, we will work towards and independent, scalable and self contained facility.
"The programme will be largely based on our Cancun outpatients clinic in Mexico.
"The patients will be accommodated in comfortable outpatient stations, with reclining chairs, a pleasant outside view and connections to audio-visual system for their ongoing education.
"The typical duration of stay will be three weeks for cancer patients, and treatment plans for others indications will be developed individually based on their need."
He went on to say that they will also partner with local hotels to provide comfortable living quarters for patients and their companions or guests.
"We will make arrangements with local retaurants to ensure that patients have access to meal plans with Hope 4 Cancer-approved dietary choices (vegetarian, organic, gluten-free meals).
"Patients will be allotted half-day sessions, six days a week.
"The rest of the time the patients will be free to enjoy Samoa's tourist offerings."
The Medical Director also went on to say that educational programme and Health Prevention will also be available for Samoa.
"We will actively participate in developing am educational programme that will teach people about preventive strategies at the grassroot level, starting with the youngest," he said.
"These programmes can involve lectures, workshops, hands on cooking classes etc.
"When the adult population's habits are compromised, they cannot effectively educate the yopunger generation.
"it will be important to involve volunteer health coaches to sustain the momentum of the programme.
"The Government involvement un ensuring consistent media propaganda for the programme will be essential.
"We will also like to discuss with the government ways and means of limiting access to processed foods that are high in added sugars because the easy availability of such foods will undo the best laid plans."
He also talked about treating Samoan cancer patients at home as the reverse medical tourism.
"With Hope 4 Cancer available in Samoa, Samoan cancer patients will be able to avail themselves of high quality, nontoxic treatments at home," he said.
More in Local
1528 Hits
P.M. firm: The land belongs to Govt.
[...]
NEWSROOM news@sobserver.ws +685 23078
ADVERTISING sales@sobserver.ws +685 26977
ONLINE online@sobserver.ws +685 31929
© Samoa Observer 2016
[*/quote*]
Noteworthy details the Samoans must scrutinize if they do not want to become accomplices and victims of the Mexican and American mass murderers:
"These doctors from the United States of America"
From the USA!? How that? Jimenez is in Mexico. His "clinic" in Tijuana is in Mexico. His "clinic" in Cancun is in Mexico.
Who is it that comes from the USA? Dewayne Lee Smith? Or Buttar? Or Klinghardt? Or Todd David Mauer? Or the also notorious fraud Sherri Tenpenny? They all are active in the USA. And their pants are on fire because their fraud system is under heavy attack.
It looks like a multi-million Dollar case of money laundering, by which the gang members try to get their assets out of the country.
"The reason why they want to setup a clinic here in Samoa is because most of their patients are from New Zealand and Australia"
We know of Australian victims of the BX Protocol gang already. So the gang also wants to ramp up these activities?
"The programme will be largely based on our Cancun outpatients clinic in Mexico.
Let's have a look at what the "clinic" in Cancun is about:
http://hope4cancercancun.com/treatments/
[*quote*]
Hope4Cancer Cancun
Making Cancer History with Alternative Medicine
Treatments
Among others:
IV Anti-Cancer Program
Sono-Photo Dynamic Therapy
Introduction to
German New Medicine
/Recall Healing Education
Ultra-Violet Blood Irradiation (UVBI)
Cellular and Organ Assessment
Cell Well Diagnostic Assessment for Vitamins, Parasites & Viruses, Nutrition, Toxins, Antioxidants, Microbiology, Minerals, Fatty Acids EFA, & Radiation
X-Ray and Ultrasound
Laboratory, blood and urine tests conducted weekly
Coffee Enema
Non-invasive biofeedback with pulsed electromagnetic fields to detect and repair cellular imbalance & inflammation
Full Spectrum Nutrition Education
Baseline Nutrition
Foundation
Seven Key Principles
Therapy Programs
SPDT
Rigvir
Contact Us
+1 (888) 544-5993 U.S.
+1 (619) 669-6511 International
info@hope4cancer.com
Our Cancún Location
Blvd Kukulkan of Zona Hotelera
next to La Isla Shopping Mall
Copyright © 2015 Hope4Cancer
[*/quote*]
OPEN YOUR EYES! DO LOOK!
"German New Medicine""German New Medicine"
is the 100 percent lethal atrocity by Ryke Geerd Hamer. He and his followers left hundreds of dead. It is mass murder!
See this web-site about these slaughterers:
http://www.deathsect.com
Do you want to look like this?
http://www.pathguy.com/breastca.jpg
http://www.pathguy.com/br_ca3.jpg
http://www.pathguy.com/neglbrca.jpg
http://www.pathguy.com/br_ca5.jpg
Dean LaPorte, MD, an America pathologists, allows us to use these pictures. This is his web-site:
http://www.pathguy.com/~dlaporte/br_ca.htm
Dean LaPorte: "These four photos depict advanced or neglected cancers of the breast. They are not placed here to disturb or frighten you, but to emphasize the importance of early detection and treatment. You can greatly reduce the chances of this happening."
"Germanic New Medicine" is no treatment. It is mass murder!
Antonio Jimenez commits mass murder.
Here are some cases of what happens to patients in the "Hope 4 Cancer" "clinic".
Olivia Downie, a little girl from Scotland, died in 2012, after she got injections with the "BX Antitoxin", sold by the Utah based fraud gang of Dewayne Lee Smith:
http://transgallaxys.com/~kanzlerzwo/index.php?topic=9070.0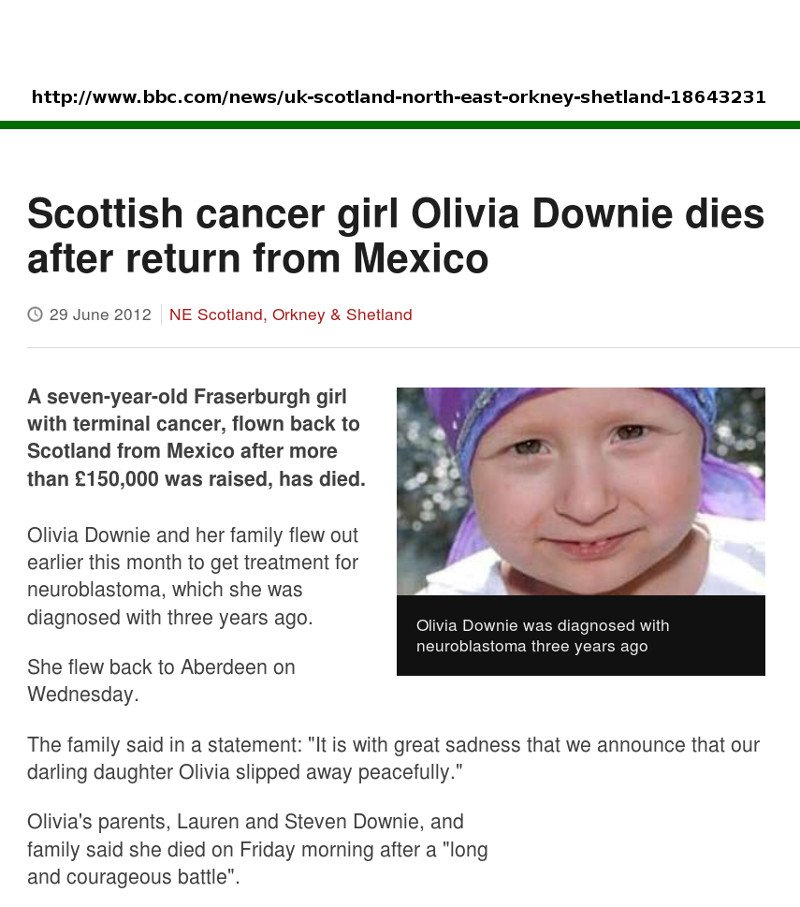 https://pbs.twimg.com/media/CsHUo5VWYAApU8z.jpg
Quote:
http://www.bbc.com/news/uk-scotland-north-east-orkney-shetland-18643231
"Scotland selected Edinburgh, Fife & East Glasgow & West Highlands & Islands NE, Orkney & Shetland selected South Tayside & Central
Scottish cancer girl Olivia Downie dies after return from Mexico
29 June 2012
From the section NE Scotland, Orkney & Shetland
http://ichef-1.bbci.co.uk/news/304/media/images/61117000/jpg/_61117072_olivia_downie.jpg
Olivia Downie
Image caption
Olivia Downie was diagnosed with neuroblastoma three years ago
A seven-year-old Fraserburgh girl with terminal cancer, flown back to Scotland from Mexico after more than £150,000 was raised, has died.
Olivia Downie and her family flew out earlier this month to get treatment for neuroblastoma, which she was diagnosed with three years ago.
She flew back to Aberdeen on Wednesday.
The family said in a statement: "It is with great sadness that we announce that our darling daughter Olivia slipped away peacefully."
We were blessed to have had Olivia in our lives and her cheeky smile that shone like a star will be with us forever
Family statement
Olivia's parents, Lauren and Steven Downie, and family said she died on Friday morning after a "long and courageous battle".
They said: "We are so thankful that, thanks to the generosity of so many people, we have been able to take her home to Scotland so she could have her family by her side.
"Words cannot express how grateful we are that this final journey was made possible.
Plane arrives back
Image caption
The plane touched down in Aberdeen on Wednesday afternoon
"We would like to extend our gratitude to the medical and nursing teams both at NHS Grampian and overseas who have also been part of our lives for so long.
They added: "We were blessed to have had Olivia in our lives and her cheeky smile that shone like a star will be with us forever."
They also appealed for privacy "at such a devastating time in all our lives".
When the treatment in Mexico failed, Olivia was flown back by Air Ambulance Worldwide.
[*/quote*]
The emergency flight from Mexico back to Europe cost about £100,000. Can you afford that? Can you?
Now, imagine your are in the Pacific, on a lonely Island. How much will the emergency flight back home cost? Or will they simply sink your body in a hole in the gravel right there? Or just dump your corps into the ocean? Hamer let the corpses of the deceased be transported across the French border at night, so nobody would see it.
That is "Germanic New medicine": cash in the money and let the people rot and die, and do not even given them pain-killers.
Here is the obituary for Michaela Jakubczyk-Eckert, a German woman, who died in 2005:
http://www.ariplex.com/ama/amamiche.htm
Do not thnk that this is only happening elsewhere. No, right in the heart of the USA copycats of Hamer do their killing "work". And leave corpses.
This is the obituary for Christina Connell, US citizen, who died in 2006:
http://www.ariplex.com/ama/amachris.htm
Antonio Jimenez is a murderer. "Sally13" wrote about her experience in Jimenez' clinic:
http://transgallaxys.com/~kanzlerzwo/index.php?topic=9070.0
[*quote*]
RE: Hope4Cancer Institute
by Sally13 on Sat May 26, 2012 04:17 AM
Quote | Reply
Our experience was negative. The program did nothing for my daughter. She died several months after receiving treatment. Nor did I see recoveries on the part of others to support the bloated statistics that Toni Jimenez gave in a phone interview prior to our deciding to go there. The staff are attentive while you are there, but they ignore you after you leave even if you have signed up for their home programs. I think most nurses, technicians, and office people genuinely think they are helping patients, but I think Jimenez and the other doctors know the true situation--and
once you are gone, they don't want to know what has happened to you because it doesn't support their advertisements.
Two weeks is too short a time to cure someone of a life-threatening illness, and patients are sent home with demanding regimes that few can follow for any period of time and often with ports for IVs that can result in serious infections requiring hospitalization. Jimenez spends most of his time promoting the program. In our experience, he spends little time with patients at the clinic. When we were there, no one had been able to find reviews of the clinic. The reviews on the web are promotional items by the clinic.
Quote | Reply
[*/quote*]
Lauren Downie, mother of the mentioned Olivia Downie asked in that very cancer forum in June 2012:
http://transgallaxys.com/~kanzlerzwo/index.php?topic=9070.0
[*quote*]
RE: Hope4Cancer Institute
by laurendownie on Fri Jun 01, 2012 09:33 PM
Hi sorry for the questions,what type of cancer did your daughter have?and whats her age?my daughter is 7 and has neuroblastoma and were about to go here as a last ditch attempt as she has alot of cancer in her bones.ive read some positive some negative.the flights are going to cost us almost as much as the treatment!!!im so sorry to hear of the passing of your daughter.someth ing no parent should ever endure x
Quote | Reply
[*/quote*]
In August 2012 Lauren Downie wrote:
http://transgallaxys.com/~kanzlerzwo/index.php?topic=9070.0
[*quote*]
RE: Hope4Cancer Institute
by laurendownie on Mon Aug 20, 2012 09:43 AM
My dear dear darling daughter Olivia has died I am devastated to tell you.we had the most horrifying experience at the hope4cancer clinic.she died the most painful tragic death. my daugher is Olivia downie. if you google her you will find some partial information on this. i am willing to chat about this but cant find the strength right now to post it all on here. we were transferred to a private hospital where Olivia was on life support. she then returned home in a private emergency air ambulance at our expense.or rather the nations expense.

the clinic never checked on Olivia' the hope 4 cancer clinic never called emailed etc etc. she died after 2days of returning home to local hosp. she had a a very very high tumour marker

the clinic gave her a bx injection vaccine....which most definately worsened her condition. gave her torturous pain... then her lungs filled with fluids. we never got to hear her voice again... or see her eyes open...



I emailed the clinic and called,asking for a breakdown of the ingredients in the bx protocol.my questions ignored.they took us over there got the money...finished olivia off when she could have spent the time at home and the left us to get on with it,
Quote | Reply
[*/quote*]
DO READ THIS:
laurendownie on Mon Aug 20, 2012 09:43 AM:
"the clinic gave her a bx injection vaccine....which most definately worsened her condition.gave her torturous pain...then her lungs filled with fluids."
laurendownie on Mon Aug 20, 2012 09:43 AM:
"I emailed the clinic and called,asking for a breakdown of the ingredients in the bx protocol.my questions ignored."
An other fate, of spring 2016:
http://archive.is/t6VwH
[*quote*]
https://www.youtube.com/watch?v=7SJnQhvgjq4
[...]
Harry Singh

This is Harry Singh. I noticed hope 4 cancer removed the reviews from their Facebook page after my review, also ban me from the page after I posted the review. After this I am certain these guys are not genuine, why would anyone do this if they are genuine.

Below was my original review:

We went there(May 2016) for my wife's(Gurpreet Kaur aka Bree) treatment and did all the treatments they had available, but none of the treatments(PNC 27, Rigvir, SonoPhotodynamic, Localized Hyperthermia, B17, etc.) helped her. My wife passed in just 3 weeks after completing her treatment; We noticed most of the doctors in Cancun clinic are inexperienced; our doctor even didn't know much about their treatments.
After the treatment, we tried to contact them regarding the possible side effects of Rigvir, no one replied, and we decided to discontinue using it. Until now, we haven't received any follow-up call.

We were very apprehensive to go there and were not sure if their treatments worked when we asked if they have any case studies or data to support their claims they had none. I do not know they are just another quacks who are making money off desperate cancer patients and family, so please do your research.

We spent $57,300 of our hard earned money, please feel free to message me if you have any question.
[*/quote*]
IT IS MASS MURDER.
ANTONIO JIMENEZ IS A MASS MURDERER.
And this very mass murderer Antonio Jimenez wants to open a clinic on the Samoan Islands.
Do call the police and get him arrested.